Hi Everyone!
Sorry for the delay in updating my WIP blog, but it has been a very busy and exciting nine months.  Watching the Watercolor and Inks works grow has been a real treat.  There is a pretty long winded story behind the progression of these works, but I will try to keep it short and sweet.
First and fore most, it is most important to acknowledge the team of people who have come together to help propel this work forward.  It has been a real labor of love on my behalf, so to have people support the work on the back-end is really extra special.
In August 2016, the Watercolor and Inks were licensed by Gift Stone,  a wholesale manufacturer from Florida.  Thanks to Gift Stone I was able to grow my product line into quality, professional gift products such as marble coasters, trivets, ornaments etc.
In October 2016, I entered partnerships with Signs by Tomorrow, Timonium to produce my printed paper and canvas selection and with Paint the Town for a selection of coffee mugs.
These independent businesses are the backbone in developing my wholesale and retail offerings – making the works official commercial art.  Which was the intention from the beginning.
Back in April 2016, I busted up my ankle so badly that I could not even stand.  Laid up and paranoid, I figured the only thing I could paint on my sofa without making a mess were watercolors.  I started out with something familiar and made Flower Farm Watercolor and Ink.  After that came a few coastal images – one being the Pink Claw Crab – and some wild birds.  While healing, I painted 30 watercolors.  This was the first time I ever seriously painted watercolors, really ever…or at least since grade school.
The Pink Claw Crab was the first piece to really take off – along with Flamingo and Jellyfish.  Interest in other pieces followed and before I knew it people were responding to little bits and pieces in the three categories I was offering.  So I got back to work painting, and in the mean time developed little products to get started – stickers, canvas prints, mat prints, boxed notes…things like that.  I sourced them myself, and became a manufacturer pretty much over night.
Its not a big secret that starting your own business is expensive…and before I knew it I found myself starting four at once.  Art & Design, Manufacturing, Wholesale and Retail.  It became pretty clear that in order to pull this off, I had to really cut back and give up things I loved to move forward professionally.  I moved out of my cottage and studio – put all my money into the wholesale product and opened a pop-shop for the holidays in Fells Point.  Its interesting, because money is still too tight, but I keep working at it, trying new things and it seems to be getting better!  I am really just taking it one day at a time…
One of my close friends from Prep school and her family trusted me with their commercial store front at 520 South Broadway.  Its truly an honor, because the space has been used for family businesses for 100 years, and now its the home to JessMessin' Fells Point.  I know it probably seems to make more sense to open an online store now of days, but there was something refreshing and personal about this opportunity to me.  I have met some very interesting people while sitting in the store – good and bad.  It really is the ultimate people watching in many ways.  I have also enjoyed seeing what people pick out for themselves, and others, and why.  Everyone seems to have a little story as to why a certain image speaks to them…which is really cool to hear first hand!
I am also finding a great appreciation in commercial art.  It enables my work to be enjoyed by a larger volume of people.  I have found that there are people who don't necessarily see wall art, but you put an image on a greeting card or on wrapping paper, and it comes to life to them.  I have also found a whole new sect of art that I enjoy – especially now that I can putz my way around Photoshop.  Teaching myself that program is one of my greatest accomplishments!! lol  Turning a few images into a pattern, or combining images to create new meaning is really fun!  I am not much for computers, but I have found myself thinking in new ways, to utilize this tool.  Which is pretty funny, because I am not savvy when it comes to computering, at least in my opinion.
So that brings you guys pretty up-to-date on everything.  JessMessin' Fells Point is located at 520 South Broadway, between Fleet and Eastern.  I am open Monday-Sunday Noon – 7pm, unless otherwise announced.  Updates are always posted on my Facebook @JessPfohl.  There is metered parking right out front, which is discounted for the holidays – also the garages in Fells Point are only $1 to park in after 5pm from now until Christmas.
JessMessin' Fells Point doubles as a retail gift store and a gallery of the commercial art process.  Below are photos of the space and products available.  If you are interested in purchasing please contact me via PfohlJL@gmail.com or via Facebook @JessPfohl.  As of now, I do not have an online store – but you can always contact me via email or Facebook message/chat.
Also, I included some pics of my new stuff at the end.  I am having fun painting some whimsical things.  I kind of needed a change for a little bit, so I started painting food.  I think some of that was in part to being able to afford it again – to a degree… 🙂
JESSMESSIN' FELLS POINT – 520 South Broadway; BALTIMORE, MD
LOCATION & PROMO IMAGES
PROMO FUNNIES
JESSMESSIN' FELLS POINT:  Store Front
JESSMESSIN' FELLS POINT: Product Shots
Product Pricing – Retail (able to ship)
Single Coaster :$8.99/ ea.
Coaster Box Set of 4: $36.99
Trivet Hot Plate: $21.99/ ea.
Mug Printed on Both Sides: $18.99/ ea.
Canvas Prints Starting at $40.00
Unsigned Print with Mat: $25.00 / Framed: $34.99
Signed Print with Mat: $50.00 / Framed: $70.00
3M Sticker: $8.00
Wrapping Paper Roll 30″x6′: $12.99
Gift Tag Set of 4: $5.99
Blank Notes Box Set of 8 Cards with Envelopes: $14.99
Bottle Opener with Magnet: $9.99
Wine Bottle Stopper: $11.99
Magnet: $5.99
Ornament: $11.99
Watercolor and Ink Original, Signed Dated and Framed, starting at $600.00
email PfohlJL@gmail.com or message @JessPfohl on Facebook to order, shipping not included. 🙂
JESSMESSIN' FELLS POINT: Interior
SMALL BUSINESS SATURDAY: Marketing
NEW WATERCOLOR AND INKS!!
and just for fun, here is the first Watercolor painting I ever made at Pinewood Elementary School, my teacher was Ron Brigerman.  This is hanging in my Grandma's House. 🙂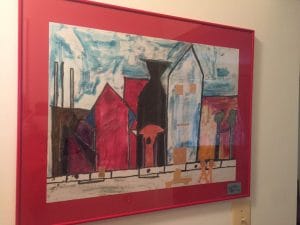 HOORAY! BYE!
Save
Save
Save
Save
Save
Save
Save
Save